Delivery Information
Below is our delivery coverage area highlighting where we offer delivery service. Please call us if you have any questions on the exact areas we cover.
Please note: Lorry delivery service is only available up as far as Cardiff and down to Tenby.
We'll use couriers for further afield; however, this delivery service is only available on certain products due to the size of orders.
For further details, please call: 01792 626425
Areas we cover using our Lorry delivery service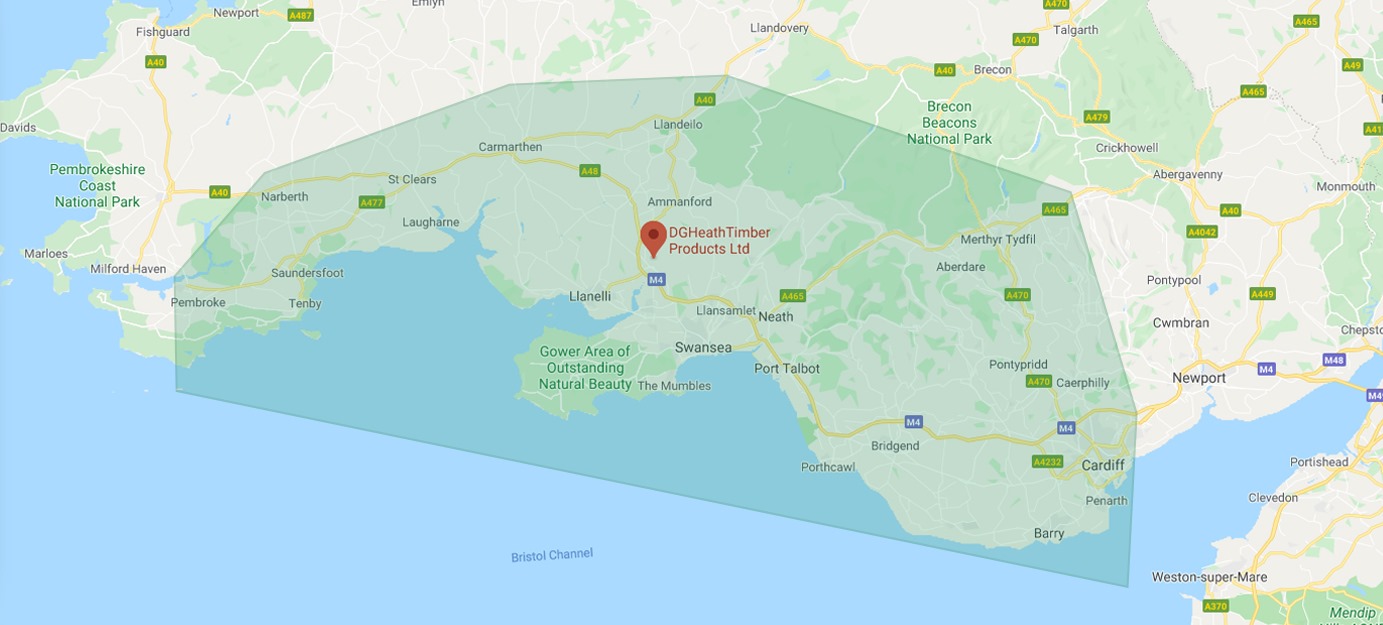 Delivery Date
For all online orders, a delivery date wll be given within 24 hours by email. If you require an urgent delivery, feel free to give us a call as quite often we will be able to accommodate.
(Please note we do not process orders on Sundays. So you may need to wait up to 48 hours for a delivery reply if you order after midday on Saturday.)
Delivery Hours & Details
Deliveries are made approximately between the hours of 8am to 6pm. Unfortunately requests for an estimated time of delivery are at DG Heath's (or the courier's) discretion.
All delivery services will be made on a lorry up to the size of the 18-ton Hiab, so it is assumed that the delivery address will be accessible. If there is likely to be a problem related to the delivery address, please inform us at the time of order to discuss alternative delivery options.
If your order arrives as arranged but we are unable to deliver because there's nobody home or there's inadequate help available, the goods are rejected, or the order is terminated whilst in transit (goods are in transit for 24 hours before the chosen delivery date), you will be liable for any additional costs incurred for the goods being returned. The return delivery charge for failed deliveries is £80.00 minimum or £0.75 per kg, whichever is the larger amount.
18 Ton Hiab Lorry
12 Ton Tail Lift Lorry
7.5 Ton Tail Lift Lorry
Tail Lift Lorries

Deliveries made on a Tail Lift Lorry will be made to the kerbside. A pallet truck will be used to transport the goods off the tail lift onto the road.

Access

The road must be able to take a large vehicle. Please see delivery vehicle sizes.

Pallet Truck

The delivery driver delivering the goods will use a manual pump-up truck to move the goods. The goods will be on a pallet. The surface cannot be gravel or grass; it must also be firm and flat. The pallets will be delivered to the kerbside.

Suitable for Large Hiab Lorry

The road that is being used for access must be able to take an HGV lorry. Our lorries will not be able to operate on loose or rough surfaces.
Please check your goods, then sign
It is worth noting that goods need to be checked for any visual damage and then signed for on arrival. If you are unfortunate enough to receive damaged goods or there are missing items, please make sure it is noted on the courier's paperwork. We also strongly suggest that you contact us directly as soon as possible to make sure we are aware of the problem.
We will not be held responsible for any consequential losses as the result of a delivery problem. We therefore advise against booking installers until goods have been received and checked.
Standard delivery is made to the kerbside due to insurance guidelines, so please arrange for adequate help to carry goods into your property.
Deliveries made outside mainland UK will incur additional delivery charges, which you will be advised of before confirmation of the order.